Ready to join the evolution?
Download a content coach checklist to learn the skills and art of conscious communication in business
FREE
Content Coach Downloads
For business owners who need to create content
A content coach that helps you understand the 'whole content thing'? Discover your business communication gold right here. Whether it's a website, email campaign, or a desire to feel more confident about what to say and how to say, it's time to evolve your communication.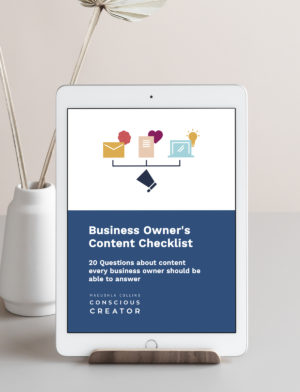 For freelancers and content creators who need support
Tired of the same old approach to content? Or just confused about how to put your best communication foot forward? Freelancers and content creators are ideally positioned to lead the communication evolution with the right processes, skills, and systems. Get them here.
For authors wanting to write a book with purpose
Want to write a book, but don't know where to start? With the help of an experienced content coach, to write your book you'll be guided with key insights from 7 Day Book Blueprint. Stop stalling and start writing your book with purpose today. 
Dig for content gold and finally write your book
Access the 7 Day Book Blueprint and popular Content Creator blog. Discover what other business owners and freelancers are learning about creating content consciously and connecting with their market in meaningful ways.
What's the biggest content creation problem facing most business owners?
Knowing what to say and how to say it.
Most people, even experienced content professionals, write in a vacuum without really thinking about this core issue. Instead of communicating for their market, they write for themselves.
When we 'dig for gold', we used a proven process for creating conscious content for websites, blogs, and books that connect and enrich people and business.
Following clear steps from exploration to optimisation, you can learn the actions required to uncover that rich treasure trove of content gold buried inside you and become the confident, competent, and conscious creator you were born to be.
Shop the Latest Content Creation Tools
How to Write Content for Business
Business Content + Communication Guide
How to Communicate with Clients
The Guidelines
How to Write a Book for Business
7 Day Book Blueprint
Content coach testimonials from lovely clients
Like many people in the process of redeveloping a website, I felt a little overwhelmed about the content. When we engaged Macushla inCommz to assist with this aspect of the website's development, I felt relieved. My feeling is that when you work with Macushla, you get more than words. Her experience and understanding of business, and the role of communication within that sphere, means you end up with content that truly reflects who you are as an organisation. Before working with her, we hadn't done this to the same level. Actually, it gives you a deeper appreciation of what your business does; you don't just take it for granted. We hold the bar high when it comes to performance and Macushla's work went beyond that.
It's been an absolute privilege to work with Macushla. Once we started to work together, trust was built quickly and I felt could rely on her. These first impressions have been met on each project we've worked on. Through our work together, I've learnt we often already have inside of us the message, the story and the information we are trying to convey. We just need someone who can put it in order and make sense of it. Thanks so much!
I can honestly say that without 7 Day Book Blueprint my book wouldn't have been written. I am not a writer and for the longest time, the ideas and content for my book were running around in my head. I literally had no idea about how to pull all the pieces together. What I love about 7 Day Book Blueprint is it asks you to get beneath the surface and draw out from you what's buried deep. Doing this makes for a richer writing experience and a deeper book. I'd recommend it to any person who wants to write a book with meaning and feeling.
I decided to write my book to share my message, knowledge and experience about specialist orthodontic treatment for children. When it came time to write my book, I knew I needed help. Working with Macushla and following the 7 Day Book Blueprint process, I found it was clear and achievable if you just follow the steps. If you've ever thought about writing a book you know can help people, follow the 7 Day Book Blueprint process and do the work because it will happen
Thank you for your professional support to us through the whole process of this project. You are not only the content writer for the website, but more importantly like our project supervisor. Without you, there would be many misunderstandings and mistakes. Your effort and attitude to this website is even greater than ours. We deeply appreciate everything you've done for us. The beautiful content on the new website make us feel more confident and proud. We are lucky to have you.
There are two things I'd say about Macushla. She just 'gets it'. And she makes it look simple. I engaged Macushla to help me with the content for my website, which I was struggling with. I couldn't get my head around how all the pieces of the website puzzle needed to come together, but through her process, Macushla cleared that up and connected the dots. Her quirky sense of fun is matched by her razor-sharp business sense and steely determination to get the job done. Somehow this catches on. What surprised me most is through the process of developing website content, we also developed the delivery model for my business. This was a huge value add and I am continuing to work with Macushla to bring the vision to life.
I knew the content for our website was important, but I was initially sceptical about an outsider coming in. I'd been let down by other people in the past, and like most business owners, I know my business better than anyone, so I wondered how it would go. I needn't have worried because Macushla has a great way of taking what's technical and turning it into something that's completely understandable for the audience, without it losing integrity. What I found most valuable was the process of clarifying what we really wanted to say in our business content. Apart from working well, Macushla also made it fun and I definitely learned more about marketing and communication through the experience.
With the process outlined in the 7DBB, I was able to navigate through the various stages, from loosely formulated ideas right through to a cohesively written manuscript ready for publishing. Although it was challenging at times, especially digging deep to get the core content out, I can honestly say it was so worthwhile. There are many ways to write your book, but the way shown in 7DBB shows you how to do it with heart, meaning and purpose.
We loved working with Macushla. We really didn't know what to expect, but at every step of the way, she made it a manageable and enjoyable experience. What we appreciated most was that after a very short time, Macushla realised there was a lovely story behind our business – one that people would really resonate with if we shared it. Through her process, she was able to draw the story out and present it in a meaningful way, while also communicating the important details about our business.